His Holiness Khalka Jetsun Dampa Rinpoche

passez à la version française



February 3 to February 6, 1999
the Visit
of


His Holiness Khalka


Jetsun Dampa Rinpoche


His Holiness Khalka Jetsun Dampa Rinpoche was born in Tibet. At the age of 4, he was recognized as the reincarnation of the 8th Jetsun Dampa, the spiritual head of the Gelugpa lineage of Tibetan Buddhism in Mongolia. Rinpoche began his religious training at Rading Monastery and Drepung Gomang monastery. Rinpoche was the abbot of the Takdan Phuntsok Ling monastery near Lhasa in Tibet. He is one of the most revered teachers of Kalachakra Tantra and is a lineage holder of Chöd teachings according to the Gelugpa Lineage. Rinpoche is an incarnation of the Great Lama and Tantric practitioner Taranatha (born 1575 A.D.). He is travelling with his son, Chöpel Yontén and his assistant, the Mongolian monk, Erdyneev Alouchi.



Introduction to Chöd and a History of the Lineage
Chöd refers to cutting through the grasping at a self and its attendant emotional afflictions. It aims to free the mind from all fear and to arouse realization of its true nature, primordially clear bliss and emptiness.

---
Wednesday February 3, 7 PM
---

Peaceful Machig Labdrön Initiation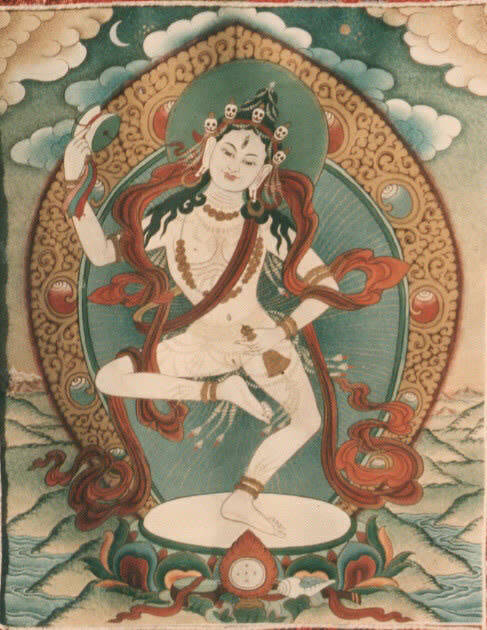 Machig Labdron is popularly considered to be both a dakini and a deity, an emanation of Yum Chenmo or Prajnaparamita, the embodiment of the wisdom of the Buddhas. Historically, this Tibetan woman, a contemporary of Milarepa, was an adept, an outstanding teacher, a mother and the founder of a unique transmission lineage known as the Chöd of Mahamudra.


---
Thursday February 4, 7 PM

---

Commentary on the Practice
---
Friday February 5, 1: 30 to 4 PM
Friday February 5, 7 PM

---

Saturday February 6
Rinpoche's morning departure

---
cost of series: $100
---
1870 de L'Église
Vendôme or de L'Église Metro
autobus No. 37
for more details: (514) 765-3515


---


---
page design
rédaction de cette page

.