Kyabjé Dagom Rinpoche
passez à la version française


May 3 to May 16, 1999
the Visit
of


Kyabjé


Dagom Rinpoche

---
Kyabje Dagom Rinpoche was born in 1953 in Shota Lhosum, Tibet.

At six years of age he was recognized by Trijang Rinpoche, tutor to His Holiness 14th Dalai Lama, as the12th incarnation of the Dagom Rinpoche.

He is the spiritual leader of the Dho Shaydup Ling Monastery where more than 700 monks reside.

In 1959 he left Tibet for India where he joined the Drepung Gomang Monastery in Mundgod. In1983 he completed all his studies and became a Geshe Lharampa, the highest degree in the Tibetan monastic system. In 1984 Rinpoche passed tantric examinations and served as the proctor of the Gyumed Tantric College for one year.

Rinpoche then travelled throughout India and Nepal to give hundreds of teachings and tantric initiations to monks and lay persons.

Since 1993, Rinpoche has served as the abbot of Samten Ling Monastery in Kathmandu, Nepal.

Rinpoche and his assistant, Geshe Tenpa Jangsam, have established the Dagom Tsong Khapa Dharma Center in Greenfield, MA and Dagom Gaden Tensung Ling in Bloomington, IN to teach the Dharma in the West.




Preparing for Tantra


A profound and precise explanation of the stages to enlightenment. The most important thing to do first is to build a good foundation, a very strong foundation.

The topics covered will be the Preliminaries, steps shared with those individuals of lesser, medium and greater capacity.

These traditional teachings are presented as meditations to be practised leading to the development of an enlightened mind.

---
May 3 to 8 at 7 PM
---
passez à la version française

Initiation of Buddha Vajrayogini, the Diamond Queen


Buddha Vajrayogini, the Diamond Queen, is the female Buddha, the embodiment of transcendental wisdom.

To attain the blissful state of Vajrayogini, one must engage in the Highest Yoga Tantra practice which contains special methods for transforming all our daily activities into a swift and blissful path leading to full enlightenment which benefits both ourselves and all others.


---
Sunday May 9 at 1 PM

---
passez à la version française


Commentary on the practice of BuddhaVajrayogini


A brief history of the practice and explanation of its benefits.

Advice and instructions on the eleven yogas of the generation stage and the essential practice of the completion stage, which leads to the attainment of full enlightenment, or Buddhahood.

---
May 10 to 15 at 7 PM

---
passez à la version française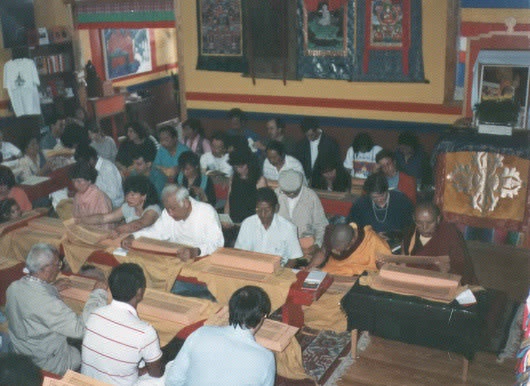 Kangyur reading, Lama Chöpa Tsog & Auspicious prayers for the Long Life of Rinpoche



The Kangyur Procession and reading is in its ninth year as an annual event at our Temple during the month of Zaga Dawa.

It will be followed with a Guru Puja and prayers for Dagom Rinpoche's long life.

Refreshments will be served by the patrons of the Kangyur, Mr. and Mrs. Barshee of Granby, Quebec.


---
Sunday May 16 at 11 AM
(please arrive early)

---
cost of series: $150
or $10 each day
and $50 Initiation

---
1870 de L'Église
Vendôme or de L'Église Metro
autobus No. 37



---


---
page design
rédaction de cette page

.